Archive for August, 2012
This piece from Social Media Examiner explains how to use social media marketing to improve SEO to your website with quality content, backlinks, social sharing buttons, call-to-action and branding. Need I say more? Nope. Just read it: See on www.socialmediaexaminer.com
This piece from Social Media Examiner explains how to use social media marketing to improve SEO to your website with quality content, backlinks, social sharing buttons, call-to-action and branding. Need I say more? Nope. Just read it:
See on www.socialmediaexaminer.com
The team behind Outlook.com revealed in a tweet that one million people signed up for the new email service in just six hours. Microsoft unveiled its Hotmail replacement Tuesday at noon Eastern, and by dinnertime it had cracked seven digits. See on mashable.com

The team behind Outlook.com revealed in a tweet that one million people signed up for the new email service in just six hours.
Microsoft unveiled its Hotmail replacement Tuesday at noon Eastern, and by dinnertime it had cracked seven digits.

See on mashable.com
A new study by Get Satisfaction validates what my real-world business experience has told me all along: make sure your web site is worthy before you drive traffic to it. Often my initial advice to a company wanting to launch their social media presence is STOP!  Don't jump in without some solid business goals, and […]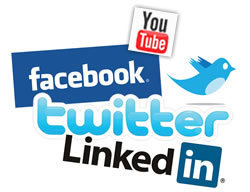 A new study by Get Satisfaction validates what my real-world business experience has told me all along: make sure your web site is worthy before you drive traffic to it. Often my initial advice to a company wanting to launch their social media presence is STOP!  Don't jump in without some solid business goals, and more importantly, GET YOUR COMPANY WEB SITE IN ORDER FIRST.  Perhaps it's best summed up with this quote from the findings:
"Consumers don't want brand relationships to be a part of their open social networks; instead, they want company Websites to be more like their experiences with open social networks."
Have you performed a web site check up on your web site to see how it stacks up today's expectations for social business?  If you haven't touched your web site in several years, it's time for an evaluation and an update (and I'd love to help you with that).
The survey gathered responses from 1,897 qualified consumers who actively use the Internet and represent adults from all age, socio-economic and geographic groups in the U.S.
The full article on www.techjournal.org contains a link to the full survey results. on